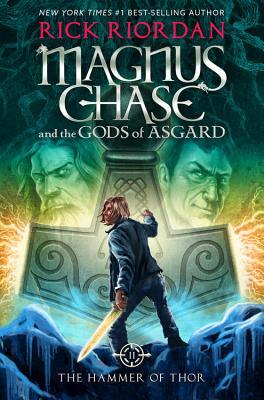 Have I talked about how much I love all the diverse elements Rick Riordan has brought into his books? It's honestly so nice to see as a person who grew up with the Percy Jackson series. To see the world become more and more real if that makes sense to say in a fictional world where Gods and demigods exist. Heroes of Olympus had such a diverse set of heroes and I might say that made me love it even more than Percy Jackson. Now Magnus Chase is on it's way to being that way as well.
In this book we have Magnus and friends in search of Thor's hammer. They have to obtain the hammer before Loki enacts some crazy plan of his. Loki is up to Loki things as always. He's always got a reason for the things he does. Probably not something that will work out well for the good guys. I mainly want to talk about some of the awesome characters in  this book for this review.
Samirah is such an interesting character to me. She is a Muslim girl who is devoted to her faith. She's also a  Valykyrie. I like that we got more conversation on how this all adds up for her. How she is able to reconcile the two very different beliefs. Samirah is a really great character. You really see the toll that being a child of Loki has put on her in this book through her relationship with her sibling Alex. Plus because of everything Loki puts the both of them up against over the course of this book. Loki gets no points in the parent department even if he's not complete trash all the time. I feel like Alex and Samirah need to meet Nico and Hazel. I feel like they'd be able to compare experiences a little. The stigma with being a child of Loki vs. being a child of Hades. I'd like to see it.
I love Hearthstone and Blitz's friendship. In the first book you definitely see it but here you see how much they really mean to each other. Blitz is Hearthstone's family. Hearthstone's real family didn't treat him well. Partially because of his inability to hear. Anything different was a problem for them. Hearthstone's father is really frustrating to read when we finally meet him in this book. It definitely made me want to see more about Hearthstone's background but also made me excited to see Hearthstone get more powerful going forward. His reverence for the Gods is also really nice to see in this story. I'm ready for more magic use. I didn't know about the Norse God Vidar. often known as the Silent God. Having Vidar draw a connection to Hearthstone because of it was interesting.  Vidar even signs to Hearthstone in a type of sign language only Hearthstone understood. Possible Alf Sign language.  It was a really cool moment to me.
I was really excited when Alex was introduced. It's so refreshing seeing a genderfluid character in a series that spins off from a series I grew up watching.  Also, I have to wonder if Alex is Magnus' love interest. When you read the first Percy Jackson book you already have a feeling who might be endgame.  You don't get that with Magnus Chase book 1. The Sword of Summer. There is definitely a connection between Magnus and Alex in this book that is making me think it could happen.
Magnus reaction to meeting Alex was so well done. Magnus spent most of his life homeless. Living on the streets. He's met many queer homeless youth in that time. He knows people who are non-binary. He's been in shelters with people that are Trans and genderfluid before. So he really doesn't have a big reaction to it at all like a large portion of Valhalla seems to. If Magnus is falling for Alex I'm wondering if Alex is possibly pansexual too. Magnus never has shown attraction to anyone in the series yet so he is an open book in a book that explores many different identities. Maybe Magnus just likes Alex. We'll have to see. Either way having the protagonist of the series in a queer relationship would be really awesome.
The characters keep me coming back to this series. They are all so great. I love the direction the plot is going. Ragnarok could be coming if our heroes don't prevent it. Maybe Loki is actually up to something else entirely. I really don't know. I'm just excited to see more of these characters going forward. Especially some of the new characters we are seeing. The Gods we met were interesting as well. The Norse Gods are something else. I really like the ones that are being incorporated into the story so far. I think I'll talk more about the book and some other elements in a Youtube video soon. Until then tell me what you thought of the book if you've read it and if you haven't I definitely suggest you try out this series.