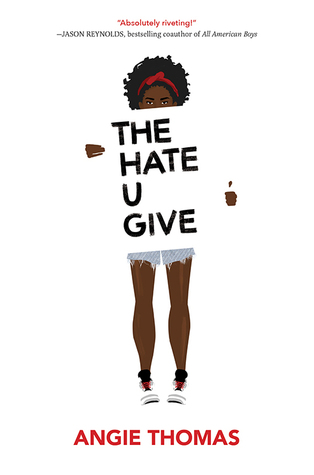 Angie Thomas delivers a fresh and extremely real story here. I feel like this is a book that so many people could benefit from reading. It could be timeless. Many important discussions can be had from the book. This book ties into current events and I feel like it's a book many people can really get something from. This book really makes you feel things.
I also have to say that Thomas does an amazing job at taking us on this journey. Such a variety in scenes all handled really well. It's pretty straight forward. Here's what's happening. Here is what Starr is feeling. It works. Starr witnesses a friend who is unarmed get gunned down by police. It's intense topic. There are scenes and moments where you feel so frustrated for Starr and what she is going through throughout.
Thomas finds moments to fit in humor that works really well. I can go from being frustrated by Starr and her situation. Feeling frustration for her family. Anger over the reactions of some people. Then have these moments where things are lighter. I can laugh along with Starr. Part of that was how relatable Star situation was. How similar Starr's family and friends were to people in my life.
Starr is s relatable to me throughout this book in many ways.  Hiding parts of yourself depending on the group you are hanging out with. The vulnerability Starr feels in certain situations that weren't that different from some things in my past. Her connection and love for her family. Her relationship with her boyfriend Chris. The emotions she expresses as she deals with loss. Sometimes I felt like I related to so much to what was happening.
I've talked about crappy YA families this year on too many occasions. The family Dynamics in The Hate U Give are amazing. I could not believe how much time we were getting to see the way this family worked. An unconventional family maybe but it's a family that was relatable to me so many times throughout this book. You have a group of people who are not perfect but they take care of each other and love each other. You can feel the love coming off the page. There is nothing Starr's parents would not do to protect their kids. You don't even have to be a blood relative to them for them to treat you like family either. I loved that.
The sense of community at times in this story was amazing. Moments where you saw people really coming together like a family.Even with their differences.  Even when they've been fighting for so long. There are these moments that were beautiful to see.
I loved Staar and Chris' relationship.I felt like there was such a nice arc for it in this. I saw the way they struggled and related to some of the things they struggled with. I'm in an interracial relationship and even if my experiences were not exactly the same as Starr'.Some definitely were. I have family who talked down about black people who decide to date someone that is white growing up. Off hand comments from family growing up caused me to be a lot more cautious than was good for me with revealing many things about myself. While seeing the way Starr took that in and made decisions based on it all I could do was nod along because I've been there.
This story is one of the most real stories I've read in a while.I love that this book had a   13 publishing house auction, I love that people knew this was a book that needed to get out there. I hope this book continues to get so much love. If you haven't picked up this book I definitely think you should. I highly recommend it.