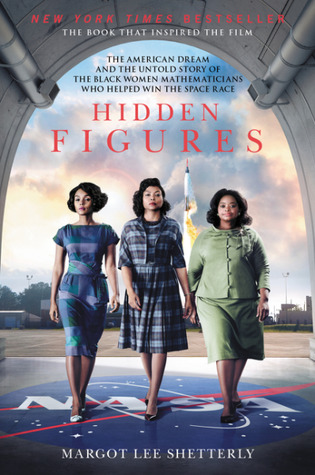 Hidden Figures was a really fantastic read. It was crazy to me when I started the book because I knew I would be reading about some amazing black women that I never had the opportunity to learn about before. I went to several schools where the majority of my classes were black students and this wasn't something we learned about in the curriculum of our history classes. I feel like that is truly unfortunate. I saw so many people saying the same thing when the movie first started making a buzz.
This book is really just the facts of what happened to these women. We get the background on these amazing women. We learn about the beginnings of NASA and America's journey to being able to put a man on the moon while following some amazing black women who helped make it happen. We learn about their passion for math and get an idea of where that passion grew for some of them. We also see how these bright women still struggled to get as far as they did because of the color of their skin.
If you are expecting more of a plot driven thing you might be disappointed as I've seen some people were. I'd say go see the movie for more of that even though I haven't seen it yet myself. I definitely get the impression from what friends who have read the book and seen the movie. This book could act as great background information for the characters you see in the film.
It feels academic in nature. Almost like a textbook which I kind of liked honestly. It didn't take away from it for me at all. Maybe it's because I didn't go into it expecting something else. I wanted to learn about these women that I had not before. I didn't see the movie so I'm not aware of how it's different in the film version. I went in with just different expectations and those expectations were met. I learned so much from this book.
I feel that it holds it's own as a text personally. Margot Lee Shetterly really was able to capture the lives of these women and show what they were passionate about in a way that really captivated me just with the facts. Just by telling us what they went through. Explaining how it felt to be put in the situations they were. The arcs of Dorothy Vaughan, Mary Jackson, and Katherine Johnson in this book really make me want to see the film as soon as I can.