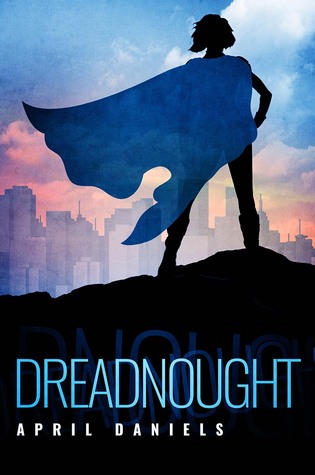 Danny Tozer has a problem: she just inherited the powers of the world's greatest superhero. Until Dreadnought fell out of the sky and died right in front of her, she was trying to keep people from finding out she's transgender. But then her second-hand superpowers transformed her body into what she's always thought it should be. Now there's no hiding that she's a girl.

It should be the happiest time of her life, but between her father's dangerous obsession with curing her girlhood, her best friend suddenly acting like he's entitled to date her, and the classmate who is secretly a masked vigilante, Danny's first weeks living in a body that fits her are more difficult and complicated than she could have imagined.

She doesn't have much time to adjust. Dreadnought's murderer, a cyborg named Utopia, still haunts the streets of New Port City. If Danny can't sort through the confusion of coming out, master her powers, and stop Utopia in time, humanity faces extinction.
I was lucky enough to get a Netgalley Arc of April Daniels debut novel Dreadnought. Dreadnought follows Danielle Tozer. Danielle accidentally stumbles upon a superhero and villain fight and ends up gaining new powers and the body that she has always wanted.
Danielle has a lot of self-doubts that she has to contend with throughout this story for a large part of it. A large part of that is because of the way her father treats her and always has. You can see how the way Danielle thinks about herself is linked to her father pretty early. When Danielle thinks she's stupid for something she did or isn't good enough to be a hero. It's because that's the way her father treats her and what he calls her often.
Danielle has some really strong moments in this story where she stands up for herself.Really early on. She is able to stand up for herself against the legion of superheroes.When her friend starts treating her differently. Then still can't do the same with her father. I thought it was such an interesting relationship to see play out in this. She's really been emotionally abused by her father for years and you see how much it affects her life.
The superheroes in this story have great names. Wonder how April Daniels came up with some of them. It's a really great assortment of characters even the ones we don't learn much about. I do wish we had learned more about the heroes in the legion. I really liked a few of them.Magma and Doc Impossible are the best. I loved them. I want them to be my mentors, please.
Danielle has such a great hero journey in this. It follows the motions of things you see in a lot of origin story comics for heroes. Her first big time-saving people is really amazing. I was so happy for her as she was doing it. You could tell right then that she should be a hero. Not because these powers fell into her lap but because she wants to help people. It's kind of the reasons she got her powers in the first place. She's not a person that can walk away when someone is hurting.
She also had some great team up moments with Calamity that every hero needs to have.Patrolling and investigating. She goes one on one with someone who has powers. She consistently is learning, getting better, and saving people throughout this. All while still having that self-doubt for a large part of the story. She doesn't allow herself to feel like she is as special as she is.
The claiming of superhero colors was such a powerful moment in the story. I recently wrote about how the claiming of one's name can be important in a review of a different book and I felt like Danielle's finally deciding on her superhero colors and superhero name was that moment in this story. She's claiming who she is.
There will be a second book and I'm excited to see what challenges Danielle faces next. Also really want to see where Calamity goes after what happens at the end of the book. More people should read this book and make fanart if you can. I can't make fanart but I want to see fanart for this book so badly. Definitely, pick it up.