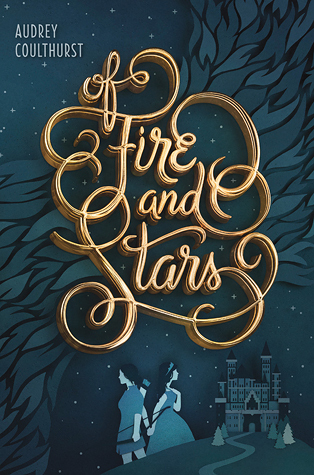 Betrothed since childhood to the prince of Mynaria, Princess Dennaleia has always known what her future holds. Her marriage will seal the alliance between Mynaria and her homeland, protecting her people from other hostile lands. But Denna has a secret. She possesses an Affinity for fire—a dangerous gift for the future queen of a kingdom where magic is forbidden.

Now, Denna must learn the ways of her new home while trying to hide her growing magic. To make matters worse, she must learn to ride Mynaria's formidable warhorses—and her teacher is the person who intimidates her most, the prickly and unconventional Princess Amaranthine—called Mare—the sister of her betrothed.

When a shocking assassination leaves the kingdom reeling, Mare and Denna reluctantly join forces to search for the culprit. As the two become closer, Mare is surprised by Denna's intelligence and bravery, while Denna is drawn to Mare's independent streak. And soon their friendship is threatening to blossom into something more.
I read it all in one night. This story gets to the action really fast which surprised me.Denna is sent off to a Kingdom to meet the man she's been arranged to marry since she was born. This new kingdom is currently in a struggle with people who have magic. It's preparing to persecute magic users. Denna has magic herself and must hide it from her future husband and his family. Then there is a magical murder Denna wants to solve along with the sister of the prince she is supposed to marry.
I have to say I loved Mare and Denna's friendship and how it developed into real feelings. Denna and Mare are electric together on the page.
The mystery of who the killer is is and what is really going on with the magic is great too. Loved Denna's slow acceptance of herself as a person with magic. It was beautifully written. It's something that makes up who she is. Something she doesn't want to reject but has to. So many parallels there for so many things.
There is a death in this book that surprisingly affected me. I was still thinking about it well after I finished the book.Still am right now. There is a type of side character I see killed off too often recently so that may be why. Won't say much more because it would be a spoiler but it was a bit of a brutal way to die.
The magic in this book really jumps up toward the end. That makes sense because Denna really has to hide what she can do throughout. I just wish there was a bit more magic than we got actually. I love magic in books.
As a person who loves some of Tamora Pierce's fantasy worlds I really gotta say this reminded me of them but way more queer. I was very happy with this book. Highly recommended. Excited to see where it goes from here and definitely hope the next book has more magic in it.