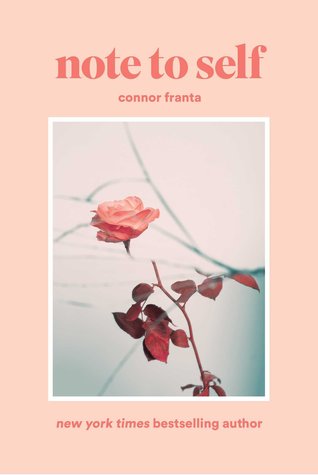 When I read A Work in progress I was surprised by how much I was able to get out of it. I'm always skeptical with memoirs written by younger people. Especially someone younger than I am if only by one or two years. I was again impressed by Connor Franta with this second book.
I like the way Connor tells a story. He has an open and honest feel to him. He states his opinions without them feeling like he's trying to force you to agree with what he feels. He can look at moments of his life and in reflecting on them pull out a lesson that he gained or wish he knew at the time. He has a wiseness that is beyond his years.
Plus there is the photography. The photos in this book were extra striking. Like I wish I could take photos as good as the ones Connor takes. In some books with photography. The photos are glanced at and you move right on to the writing. I really stopped to look at the photos here. Especially when they linked in really well to the prose or poetry Connor had with it. By the way, Connor's poetry was excellent in this book.I would read an entire poetry book from him. I was so there for it.
A lot of what Connor talks about in this book is really relatable for me too. I've talked about an experience that many queer people have in common in the past that Connor also addresses here. Having your first relationships, romantic or otherwise, in much later years than your straight peers. Possibly because you weren't out or because you weren't in an environment with anyone else to start those relationships with in your high school or college years.
Connor talks about experiencing that here and I could definitely relate to the way he talked about it. He wasn't out in high school. He came out in the last few years. It's a different experience just because of where you are in your life.  The emotions involved in those first relationships and the way you approach people you are interested in changes for people over time.Plus the way you experience break ups and heartbreaks. Connor experiences a major breakup while writing this book.
Connor experiences a major breakup while writing this book. The emotional devastation he experiences is written about in such a grabbing way. He's just honest about what he was feeling and you can tell he hoped writing something would help him. I think anyone who has experienced a breakup that really affected them can relate. The poetry and photos in that section shined even more. This is a book where I could not contain my emotions as I read. I let out a bit of a scream at one point because I was relating and empathizing too much with what was happening.
Connor also talks about his experience with depression. He talks about his first time going to therapy. I love seeing people talking about these experiences and letting people know it is okay to do that. I think a lot of people don't like the stigma associated with things and are afraid to talk about their problems. Some people are afraid to try therapy because of some of that stigma. I always appreciate seeing this in books. Loved seeing a real person talk about their experiences with it.
This was another excellent book from Connor. Excited to see what he does next. Just started listening to his curated music playlists on Spotify. They are so good. Plus, I am now checking out his Instagram whenever I can because those photos are just too good. Wishing him the best in his next few years. I hope he is able to keep growing and learning from life.