I enjoyed this volume of the comic but not nearly as much as the first one. It's a brand new direction since the parents are dealt with in the first volume. There are arcs here that I really loved. I think the general direction and who the big villain is for this volume wasn't the greatest for me. I feel like this needed more focus to really work like the first Volume does.
I liked the new additions to the team.Victor Mancha who is Ultron's son apparently. Not sure how that happened still. Pretty sure that makes him related to Vision, though which is really cool. I'm pretty sure they will meet in a crossover between The Runaways and The Young Avengers. I'm excited to read that.
Then we meet a shape-shifting Skrull named Xavin. Xavin is there to find Karolina who they are supposed to marry. Karolina is a lesbian and I thought it was so interesting that Xavin decided to just turn into a girl for her. I felt like Karolina and Xavin had a big arc in this. it may have happened a bit too fast but I'm interested to see where it goes.Also love that Xavin is black when in human form. This is a pretty diverse cast. Xavin changes gender often throughout the story.The pronouns used in reference to Xavin changed because of that. I'd love to see how they handle it.I hope the upcoming show based on the comic gets to the point where Xavin will be introduced.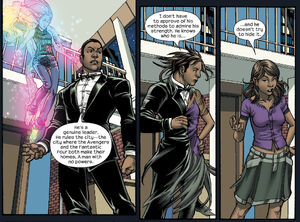 I love Nico Minoru in A-Force. In the Runaways, she just keeps getting worse right now. I really can't warm up to her character at all. I've read further than this volume by the time that I'm writing this and her actions after what happens at the end continue that. I really don't get why she acts the way she does. They also really need to figure out something for her magic to be useful again. Her method in A-Force is really fantastic.
I wish Gert/Arsenic was more confident in her body. The bad guys seem to consistently call her fat and I just want her to kill them with her Dinosaur. She goes through a lot in this volume. I think she's such a strong character and puts up with so much.She deserves more. Her relationship with Chase comes out of nowhere in the first volume for me. I think there were some great moments between them in this. I still can't find myself to really like Chase, though. He makes a lot of mistakes here.
The end of this volume was so sad. I'm jumping into the next volume. Don't want to linger with what happened here too long. I want to see how the team handles it going forward. I feel like they won't fare well.
Most people in life don't have great power, and the few that do are almost never responsible with it. The people who have the greatest responsibility are the kids with no power because we're the ones who have to keep everybody in check.
 – Gertrude Yorkes to Spider-Man