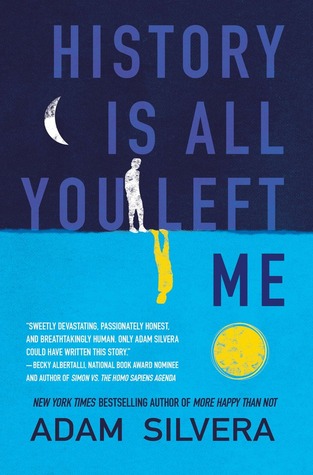 History is All You Left Me by Adam Silver is the second book chosen for The Rainbow Library.A landslide in the voting. A lot of members were excited about the book release.I'm really glad it was chosen as well. I was a big fan of More Happy Than Not and had the History Is All You Left Me book pre-ordered. I was going to wait a bit longer to dive into but I'm glad this group gave me the push to do it now.Apologizing now if this review gets too scattered. I took lots of notes.
This story intrigued me right away with the setup. You jump into the story and realize that the chapters will alternate between the present and the past.History and Today. We have a main character that is flawed in some ways too. I'm  talking about the way he handles a lot of the relationships in his life. I could see that it wasn't the best right away. Especially after seeing how great Griffin's relationship with Wade and Theo is in the first few history chapters. It's so interesting trying to connect the history Griff gives us to his present. I was always looking for the clues to see how things came to be this way. Trying to figure out who is at fault for things before history could catch up with the present more.
I have to say I was surprised by how much I loved the history chapters. They start the day that Theo and Griffin admit their feelings for each other,  goes through their relationship and ends on the day that Theo dies. There were so many beautiful moments in their relationship and it really was bittersweet to read knowing that they eventually break up and that Theo dies. The first few history chapters really drew me in and I was excited that I was going to really enjoy those flashbacks.
Early on I wondered how reliable Griffin was as a narrator for not only the history sections. It was a small moment during the funeral of Theo that made me think it. It was just a perspective thing. The way he saw Jackson and how I could tell he blamed Jackson for Theo's death to some extent. It made him think that other people might see Jackson similarly when that wasn't the case. It was the first point where I realized there would definitely be some bias with anything revolving Jackson in the history or today part.
One really interesting thing about Griffin as a narrator is that he's talking to Theo. The whole story is Griffin going over his history with Theo and also telling Theo the things he didn't know. The things he wanted to but didn't get a chance to. The "you" he references in the today sections is Theo.He models his actions toward Jackson based on what Theo would want him to do. If Theo would be disappointed in him. I saw it as another way for him to process Theo's death. Believing that somehow Theo might be out there listening to him. A little odd considering that it's pointed out that Griffin isn't religious like Jackson.
Griffin has OCD. I really can't comment much on the way it's written besides that it feels accurate. I have a family member that has OCD and I grew up watching them deal with their compulsions. Compulsions that are very different from what Griffin's are, though.His compulsions dealt with counting and even numbers. He always had to walk on one side of people or he became anxious. I liked the way it was shown throughout the story.I liked the way the people in his life reacted differently to it as well.
This story had what I call the January problem now. It's where you only see a character through flashback and don't always get the info you want. January from Last Seen Leaving was a character I had this kind of issue with. Theo can't tell his story. Griffin has to tell it for him. Jackson and others can share stories of him but they can't tell us what Theo was thinking. I really just wished I could get in his head. I got to the point in the history chapters where I had some questions. Theo, what are you doing? Do you really think you can stay friends with Griffin and be with Jackson? Do you not see how messy this situation is? Why are you a mess? Plus so many more questions as I realize things that Theo did or said. It's not a problem that takes anything away from the story for me. I just will have those questions forever.
The last sixty or eighty pages I would read a page. Then stop to process because I needed to before reading another page.It was a long process. Sometimes I would lean against a wall or pace. Adam Silvera takes you on these really emotional roller coasters in his work. The situation between this group of guys was so messy and that was before Theo died. It really just gets worse. There were definitely some cringe moments because I didn't want to think about how I'd handle the situations they were going through.  Pg 225 I for sure wasn't ready for. I could not. I still cannot.I didn't even know how I kept going toward the end right after that.
I really can't knock this story rating down for anything that happens. There are things that were frustrating but it wasn't frustrations that would affect the rating I'd give the book.If the situation was different these things would. I'm never a fan of people doing things to emotionally hurt people. Griff definitely does that at points in this story and I feel like Jackson does as well.Griff makes some bad decisions in his History with Theo that might make him unlikeable for people. Theo might be unlikeable for you.However, this was a story about people grieving over the death of someone they loved. It's completely true that there were moments where I definitely have a problem with things done. Especially by the main character Griffin but all his emotions and actions were valid.This form of grieving was valid. Not right necessarily but it was valid. He's in a rough spot and you see that throughout the entire book. I went along on this journey with Griffin knowing that he was going to possibly make some bad decisions.
There were chapters early on where I wished we could see more of Wade. I think it's because I loved Wade in the chapters in the past. He was a great friend and added something to those scenes before Theo and Griffin start pushing him out a little unintentionally.I also wondered why he became more distant. What did Theo do or say to push his best friend away? Another question I had. Later in the story, we do finally get to see what's going on with Wade. I have to say that there are things about Wade that I related to in a this is hurting my soul kind of way. I really wish we could have seen more of his character. Jackson and Griffin get to m0urn together for a big portion of this story. Wade mourns his friend alone and that is really rough.
I have to applaud Silvera on somehow throwing in a subtle twist that was just as jarring as the twist in More Happy Than Not even if on a smaller scale. More Happy Than Not had a sci-fi element.The thing that shocked me there was a big deal. History is All You left Me is just all real and still had these emotionally jarring moments that are so brilliant and unexpected. Adam Silvera is really becoming one of my favorite authors really quickly.I'm excited for his next book They Both Die At The End.I know I will likely be a complete emotional wreck after that one but I don't mind that when it's an Adam Silvera book. This story comes out to a 5-star read for me.