'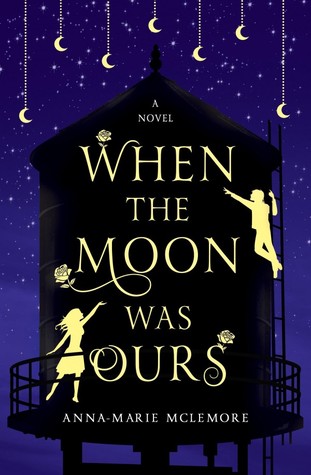 To everyone who knows them, best friends Miel and Sam are as strange as they are inseparable. Roses grow out of Miel's wrist, and rumors say that she spilled out of a water tower when she was five. Sam is known for the moons he paints and hangs in the trees, and for how little anyone knows about his life before he and his mother moved to town. But as odd as everyone considers Miel and Sam, even they stay away from the Bonner girls, four beautiful sisters rumored to be witches. Now they want the roses that grow from Miel's skin, convinced that their scent can make anyone fall in love. And they're willing to use every secret Miel has fought to protect to make sure she gives them up.
I can't talk about this book without first mentioning the dedication. I'm pretty sure I cried when I first opened the book and didn't even start the story until quite a while later. It's such a beautiful dedication that I needed to just share it with people. I showed my fiance and then had to take a picture to send to some family and friends from Pride so I had people to gush over it with. It's brilliant. Read it.
Now, this book took me a long time to finish. I got a bit confused about some things in the story. I had to put it down for a bit. I think it may have just been because of the magic and lack of magic at times.What I mean by that is that there is magic in this story. A good amount of it.I love magic in stories. There is also superstition and rumors.in this story. I think the way the story is written I was confused about what was because of magic and when things happened just because people made themselves believe it if that makes any sense.
Samir and Miel have such a beautiful relationship. As friends and more.They pulled me into this story. They are both so different from other people. They understand each other. They love each other as they are. The relationship has these beautiful delicate moments in the story that are written excellently. Their love felt like one of the most magical things in this story. It was beautifully written. I felt wrapped up in it.
The romance was beautiful but the intimate moments were as well. The two were intertwined really. This is a YA story that shows sexual desire in a way I wish I saw more in books in general. It was so honest and the characters still felt the ages they are.
Samir and Miel both have such intense backgrounds. Miel's is shrouded in mystery for much of the story. We know how she arrived in town from the water tower. We know she has a fear of pumpkins and La Llorona. We just don't know the why's or the how's. I loved the way the picture became clearer. We get pieces as Miel gains some memories and I still didn't understand until it was all revealed.
Samir is struggling to accept himself and to be ready to claim himself. Claiming his name is shown as a really major moment and I absolutely loved it. Also claiming one's own body is something you see with Samir and Miel in this and I can't get over how great that is to see when I wasn't expecting it. The messages in this book that stick with me are things that snuck up on me in the story.
I didn't really understand what was going on with the Bonner sisters for a lot of the book. I didn't understand why they really wanted the roses. They weren't effective as bad guys for me.They annoyed me more than anything. That definitely changes a little throughout the story when we get to learn more about them. I honestly wish we'd seen their parents a couple times because I have questions for and about their parents. I do think that the Bonner sisters eventually lead into the theme that is throughout the whole book.
This is a story about accepting yourself and being proud of who you are. As magical as this story is I feel like anyone can relate to some of the struggles the characters in the story feel. If you've ever been lost you can see yourself in Miel and Samir's journey in this book. Very glad I picked this book up.
p.s. Read the Author's Note too. It was so lovely. Really enjoyed hearing Anna Marie McLeMore's experiences. You see where she learned some things that may have helped her come up with the stories for Miel and Samir.