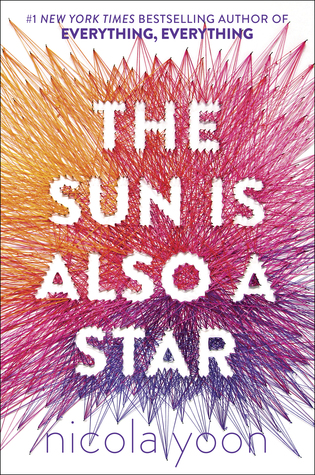 Natasha: I'm a girl who believes in science and facts. Not fate. Not destiny. Or dreams that will never come true. I'm definitely not the kind of girl who meets a cute boy on a crowded New York City street and falls in love with him. Not when my family is twelve hours away from being deported to Jamaica. Falling in love with him won't be my story.

Daniel: I've always been the good son, the good student, living up to my parents' high expectations. Never the poet. Or the dreamer. But when I see her, I forget about all that. Something about Natasha makes me think that fate has something much more extraordinary in store—for both of us.

The Universe: Every moment in our lives has brought us to this single moment. A million futures lie before us. Which one will come true?
2017 is off to a great start when it comes to my reading at least. I didn't think I was going to like this story nearly as much as so many other people have. I heard all the amazing things about the book but I was skeptical. One reason was because within the premise and the way people were describing the story I was concerned I would be reading some serious instalove in this book. Another reason might have just been that I honestly haven't read a contemporary that didn't focus on queer characters in a long time. Many many books ago. However, this book turned out to be something I really loved.
Daniel does feel a connection to Natasha quickly and even if she does feel something. It is not 'love' right away. Natasha doesn't believe in love at first sight. She doesn't even really believe in love at all. She isn't feeling Daniel as deeply as he is her. I was with her on that. I really didn't like Daniel right away. As they got to know each other Natasha slowly falls for him and I was too. I was starting to like Daniel then starting to love Natasha and Daniel as a couple.
Natasha wants to be a scientist. She looks at things logically. Daniel is more of a creative type. He's an artist. He's about passion even though he feels like he has to follow the path his parents have laid out for him. They are different in a lot of ways but also really similar.You see why they connect as they spend part of their day together.
Nicola Yoon's writing is really fantastic. Right away the back and forth between the two perspectives seemed effortless and that continued throughout the story. Then there are sections which give the history of different things. Always tied to something the characters have encountered or said. I feel like that was such an interesting addition to the story. It pulled me in and made me think about things I never questioned before.
Then there is the fact that you get other perspectives besides Natasha and Daniel in this story. You get snapshots of the people they encounter. The security guard at a place Natasha goes to for example. It can be someone they barely interact with but it's all connected somehow. All these people connect to Natasha and Daniel in some way. Sometimes they connect to each other at some point during the day. It made me think about when people say we're all connected in some way. I found it really subtlely beautiful.
I fell for this book pretty hard. I literally had to stop reading it in public at one point because I could not stop myself from reacting to everything. When Daniel did something cute or awkward or when a situation got dramatic I could not contain my reactions. This is a sign of a great book. Highly recommended by me.