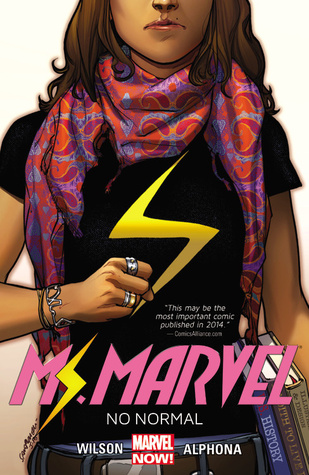 Kamala Khan is an ordinary girl from Jersey City — until she's suddenly empowered with extraordinary gifts. But who truly is the new Ms. Marvel? Teenager? Muslim? Inhuman? Find out as she takes the Marvel Universe by storm! When Kamala discovers the dangers of her newfound powers, she unlocks a secret behind them, as well. Is Kamala ready to wield these immense new gifts? Or will the weight of the legacy before her be too much to bear? Kamala has no idea, either. But she's comin' for you, Jersey!
I really enjoyed this. I think Kamala is such a great character. She's relatable. She's just a teenage girl trying to fit in. Her family is really strict. That was definitely something I related to her on.
I really like her power. I love that she needs time to figure her power out. Learn how it can be used. She's not just automatically badass. She's a mess when she first gets her powers. She's still learning at the end of the book too. She doesn't have it all figured out. I really like that a lot.
The way she got her powers was confusing as all out, though. I'm not sure what happened there really. I have an idea. I'm hoping that is expanded on more in the next volume. Some people have told me that's the case. Whatever happened in this first volume was trippy.
I loved Bruno.He's a great character. Definitely, can see how much he cares about Kamala. I ship it. Hoping good things for his character down the line. Please don't kill him for Kamala's character growth or an arc. I see it too much. I don't need it.
The villain seems really interesting to me. Scary too. Excited to see what happens next in Kamala's story. What will she have to face next? Will she continue to get grounded over and over again? Probably. She really should just tell her parents she's a superhero. Why does no one ever do that?