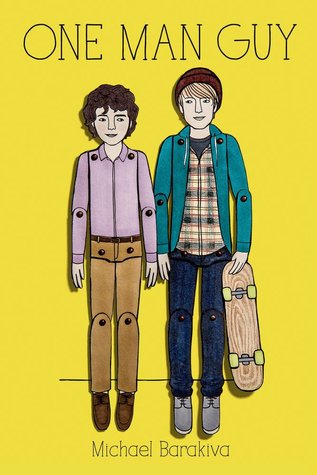 Alek Khederian should have guessed something was wrong when his parents took him to a restaurant. Everyone knows that Armenians never eat out. Between bouts of interrogating the waitress and criticizing the menu, Alek's parents announce that he'll be attending summer school in order to bring up his grades. Alek is sure this experience will be the perfect hellish end to his hellish freshman year of high school. He never could've predicted that he'd meet someone like Ethan.

Ethan is everything Alek wishes he were: confident, free-spirited, and irreverent. He can't believe a guy this cool wants to be his friend. And before long, it seems like Ethan wants to be more than friends. Alek has never thought about having a boyfriend—he's barely ever had a girlfriend—but maybe it's time to think again.
This book was an interesting experience for me.I stayed up all night reading it. It was 5am when I went back to my room. Right from the beginning, I knew it was going to be an amazing book. The opening is hilarious, fast-paced, and just fun. The rest of the book followed suit for me. It really was  actually funny. There were serious laugh out loud moments for me. I sat in the lobby of my building laughing at four in the morning at parts. The doorman was concerned.
I listen to music when I read often but it's always great to listen to music featured in the book. So during this book I listened to Rufus Wainright. Alek and Ethan go to see a Rufus concert in the book.He's Ethan's favorite artist. It was fantastic listening to Rufus while reading this.I am a little Rufus Wainright obsessed right now because of it.(My boyfriend just said that I'm extremely Rufus obsessed) I listen to a lot of queer artists so I don't know how I had not listened to him before now.
The families are eccentric and wonderfully written.Alek's Armenian family were a big part of the book and I loved them. The restaurant scene with Alek's family at the beginning of the book was amazing.The customs and history you learn in the book are fantastic. Barakiva writes really great family dynamics.I also thought the little bits where we see Becky and Ethan's family were really great as well. You get to see different kinds of families in this book.
Now the relationship. Ethan and Alek are so freaking cute. I was so surprised at how well the relationship formed. It was kind of quick , but not really. It was quick but didn't bother me like it could have. It just worked well. They are really different individual characters. I think Ethan needs more order in his life and Alek needed some freedom to learn who he really was.They are good for each other.I loved it.
I really am glad I picked this up from the library. It was so good. I want to get my own copy. I want an adaption of it so much. This would be such a great comedic movie. I could not help but think that throughout this. It would be so good. It's at the top of my books I want adapted list right now.