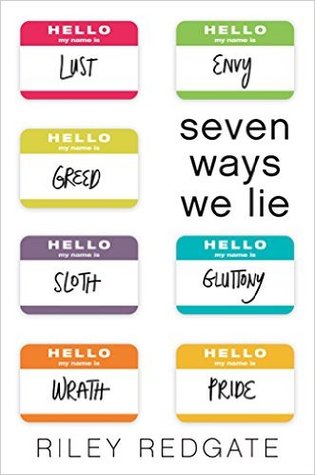 Paloma High School is ordinary by anyone's standards. It's got the same cliques, the same prejudices, the same suspect cafeteria food. And like every high school, every student has something to hide—from Kat, the thespian who conceals her trust issues onstage, to Valentine, the neurotic genius who's planted the seed of a school scandal.

When that scandal bubbles over, and rumors of a teacher-student affair surface, everyone starts hunting for someone to blame. For the seven unlikely allies at the heart of it all, the collision of their seven ordinary-seeming lives results in extraordinary change.
I really loved this book.Seven students each representing a deadly sin. That got me interested immediately. I love studying the seven deadly sins. The episode with the sins on charmed was one of my faves.It's just a fun concept. Figuring out which one each student represented was fun for me too. Some are more obvious than others for sure.
I felt like the story made it pretty obvious which student is a part of the affair pretty early. I thought that might take away something from the story,but really you get to see everyone else around that person reacting to them without really knowing them. It was interesting. Especially since one of the seven does know who it is from the beginning.
Let's quickly go over some of the characters. I want to talk about some of the diversity in the book. Some other things I appreciated as well.
I loved Valentine Simmons. He's so blunt. He's not trying to be funny but completely cracked me up at times. Loved his arc. He changes a bit from where we see him at the beginning to where he is at the end of the book. Also, he's ASEXUAL. They don't say the word,but he is. Looking for more books with Asexual characters then check this one out.
The other queer character is one that I loved as well. Lucas is Pansexual. He is awesome. I had some reservations going into the book because I was told he was the character that represented greed. Could have been problematic, but it wasn't. He really represented greed when it came to money and wanting luxurious things specifically. That aspect of him didn't factor into his being pansexual at all. Loved the conversations around pansexuality in this because it was realistic. It's not easy to explain to people and sometimes people don't get it.
I liked the message the book had about how people treat girls that sleep around differently than boys that do. The character that represented lust was overall a really strong character in this book to me.She didn't let herself care what people thought of her but didn't let people take things too far either. Also really liked where her story ended up at the end.
Matt is half  latino. His mother speaks Spanish at times in the book I believe. I thought that was really cool. You really see he comes from a mixed background in this. Also really liked his character overall. he had one slip up where I was like that's not cool,but he actually redeems himself, unlike some people. This leads us to my least favorite character.
I hated Claire. I got to the point in the book where I decided she was irredeemable really early. I didn't think that would be the most annoying deadly sin to read, but it was. She's the complete worst.I would not forgive her for the things she did in this book if I were her friends. The attempt of a turnaround for her did not land well at the end. Not enough time to make it work in her last two chapters honestly. I'd rather get another Valentine, Juniper, or Lucas chapter. Even another Olivia chapter, which we didn't need. We had plenty of those. I'd still prefer more over Claire's existence.
So I loved this book. I had the one character I hated throughout. A sort of mystery where you wonder when will everyone find out.A few very poetic chapters. Lots of drama. A little bit of romance. Some really great LGBTQIA + characters. A dash of feminism. This book was completely for me. Definitely, recommend that people try it out. This was an Overdrive library read for me. It's going on the list of books I need to buy because I want to own this book.