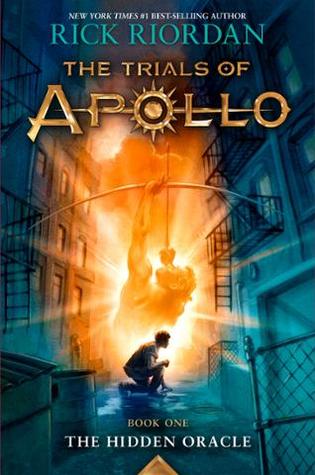 I was really happy with this. Probably a 4.5 or 4.6 stars. Going to talk about many elements, but no specifics in this review.
This book really is setting up the next few books.Answering some questions to get things set up. Who will be the villain we have to deal with? What about the prophecy? Who will be helping on the journey? So it could have fallen a bit flat for some people I think. However, I think the characters really pulled me into this one.
Before I talk about the characters, though. I need to mention how happily surprised by how queer this book is. Nico and Will are adorable dorks and I may have squealed at 1 am waking up my boyfriend because of their adorableness. Their relationship isn't just hinted at now.They barely are getting started at the end of Blood of Olympus. It's been several months. They are together and I loved it.
Apollo has had two great loves in his past. One of them was a male. I knew Apollo had male and female lovers and I'm glad the book didn't skip over that.It didn't put all the focus on Daphne. We even found out that one of Apollo's kids is from relations Apollo has with a man, which I thought was so cool.Not sure how that worked. The gods have their ways apparently. I would love to hear that demigods story of when they found that out honestly.
I'm wondering if Apollo will ever encounter Zephyrus during this because that could be really interesting considering their past. I feel like Daphne and Hyacinth will continue to come up as the series goes on and I'm excited to see how.
Apollo is egotistical, often selfish, and narcissistic. He was like that when he was a god and now that he's mortal he's having a hard time dropping it. It's kind of fantastic honestly. He's so not on the same plain as everyone else. He thinks he understands mortals. His needs are obviously more important. It adds to the hilarity in the book.
The idea of seeing a god have to learn how to be mortal has been done before .It's always interesting and usually quite funny. I'll definitely enjoy seeing how being mortal will affect Apollo as the series goes on. It's something that has to change your perspective on things at least a little.
Meg is a really interesting character.I really liked her spunk. I didn't expect things to go the way they did with her and I'm happy with what happened. That might sound strange if you've already read it, but I'll tell you why.There are a lot of lessons that readers will be able to learn from Meg's plight over the next few books.That's something I can already tell.
The last thing is I almost woke up my fiance to tell him the villain when it was revealed because it was someone we both studied and My fiance is writing a play on that villain right now. I thought that was awesome. Also scary for the characters because it's a villain capable of some very bad things. I was excited, though.
One more thing. The chapter titles are haikus. There is a haiku to start every chapter. That was fantastic. It was hilarious. Probably my favorite thing I've seen in a while. Some had more punch than others, but it's such a clever idea. Makes so much sense when dealing with a god of poetry. Very happy with the start of this series.