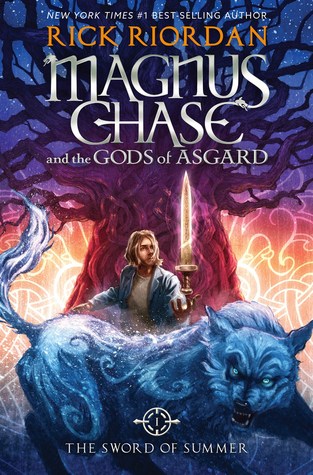 Magnus Chase has always been a troubled kid. Since his mother's mysterious death, he's lived alone on the streets of Boston, surviving by his wits, keeping one step ahead of the police and the truant officers.

One day, he's tracked down by a man he's never met—a man his mother claimed was dangerous. The man tells him an impossible secret: Magnus is the son of a Norse god.

The Viking myths are true. The gods of Asgard are preparing for war. Trolls, giants and worse monsters are stirring for doomsday. To prevent Ragnarok, Magnus must search the Nine Worlds for a weapon that has been lost for thousands of years.

When an attack by fire giants forces him to choose between his own safety and the lives of hundreds of innocents, Magnus makes a fatal decision.

Sometimes, the only way to start a new life is to die.
I really liked this story. Magnus is a really good main character. He's funny and a really different kind of demigod.He definitely has a bit of a darker outlook on life. He surprised me with some of his actions in the book.
I really loved the diversity of the main group of characters.It was so refreshing to me. Not just with the racial diversity, which is definitely there with Blitz, TJ, and Samirah.I liked that there were discussions about Samirah's family, customs, and beliefs.
I also have not read near enough books with characters using ASL. I haven't read many books with characters that have any disability at all. This book has a central character that is deaf. I really enjoyed reading that.
I loved the Norse Gods personalities. Ran and Thor were so entertaining. I loved the pop culture references. I am so sad I have to wait for book 2 now. I kept looking at the last page when I was done.
Elves and Dwarves make everything better by the way.