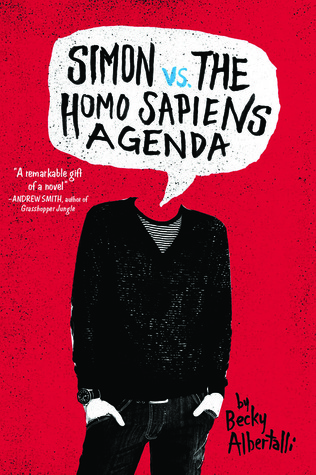 Sixteen-year-old and not-so-openly gay Simon Spier prefers to save his drama for the school musical. But when an email falls into the wrong hands, his secret is at risk of being thrust into the spotlight. Now Simon is actually being blackmailed: if he doesn't play wingman for class clown Martin, his sexual identity will become everyone's business. Worse, the privacy of Blue, the pen name of the boy he's been emailing, will be compromised.

With some messy dynamics emerging in his once tight-knit group of friends, and his email correspondence with Blue growing more flirtatious every day, Simon's junior year has suddenly gotten all kinds of complicated. Now, change-averse Simon has to find a way to step out of his comfort zone before he's pushed out—without alienating his friends, compromising himself, or fumbling a shot at happiness with the most confusing, adorable guy he's never met.
I was excited to finally get to read this book, but it still took me a while to start reading it once it arrived. I used my vacation for it and it was so hard to put it down and do stuff with my family because I loved reading Simon's story. It was so hard to put down.
Simon and his relationship with Blue is the sweetest thing. I loved reading it. The emails between the two of them were something I'd want to just keep reading forever.They are so sweet to each other and you see how much they care about each other.
I have weird ships and don't always like the pairing that the main characters end up with.Even in books where there doesn't look like there would be an other option I can hate the romantic pairing. This is a pairing that I loved and I actually guessed who Blue was pretty early. It's definitely not easy for most people, but the pairing was what I wished the pairing was in so many books where I hate who the protagonist ends up with.This book gave me everything I wanted.
Except for some more closure for Leah's storyline, but I'll let it slide. I really liked Leah's character. I think she's a great friend to Simon and I don't think anyone in the book really thinks about what she's going through ever.
Abby and the other beautifully written characters of color in this book made me so happy. I wish I didn't have to point this out , but I still do. It's something I don't see enough in YA. Abby being the beautiful girl who all the guys want and all the girls are jealous of is a big deal. My sister was so happy when she saw that. I wish I could explain how her eyes lit up at that.  It was something I noticed early on and knew I would love the book from there on out.
This is a story that I will definitely be rereading on a gloomy day to cheer me up sometime in the future. I am going to be recommending this book way too much now.
 Video review will be up on my Youtube channel soon: https://www.youtube.com/channel/UCfYT0tfdoJ_ExGX0eB4b6-A