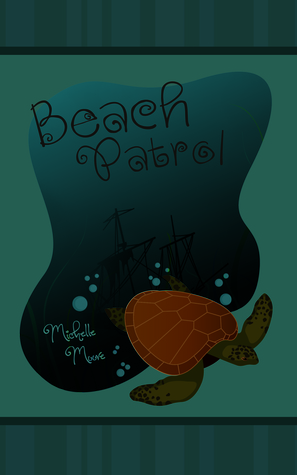 This story is about jay and Dan.Dan is an oceanography student studying turtles in Playa Escondida. Jay is a lifeguard Dan meets his first night out on the beach.One night out something happens to Dan that he can't explain. The next day has a mark on his hand and it's possible he's been marked by a demon.
I loved the paranormal aspects of this book. I love a good ghost story and even better if we've got a demon to deal with.I was surprised by how interested I was in trying to figure out the mysteries of the town.
Sometimes in stories like this there are characters who will have all the supernatural things going on around them, but still be skeptical. That's fine when it doesn't last too long. I felt like Dan's progression was really natural for him. He has a scientific mind, but after witnessing the impossible a few times you have to eventually believe your eyes.
I don't know how I felt about Jay. He has to deal with a lot in this story so I cut him some slack after not initially liking his character much. I think the things I liked about the character had a lot to do with his role in the paranormal elements of the story.I found myself rooting for him as the story went on.
The big action moments at the end felt a little rushed, but I might feel that way because of how enthralled I was with the mystery of the Mary Louise. I was so excited to figure out how they would end the curse and stop the demon. There was definitely some suspense. I wanted to see more in the ending though. I would have loved to find out what Eloise and Joseph were doing during the big scene.They were just really odd characters that I liked.
I felt like the relationships were really realistic in the story. Jay and Dan's attraction to each other is pretty evident at first.They definitely act appropriately for the situation they are thrown into. I also really loved the direction their relationship went. This story is short, but you don't have to worry about it being an instant romance story either. I felt like this was an instant attraction that grew to a place where they can start a relationship.
There was definitely more that could have been done in a few areas. I just wish it was longer because I would have loved to see either more development of the relationship between Jay and Dan, or information on Eloise and Joseph, or get a bit more action in the final scenes against the demon.
Playa Escondida is a really interesting town. I'd definitely want to go there. I need to read the other book in the series so that I can see more of it.
**ARC was kindly provided by Less Than Three Press via NetGalley for an honest review.**